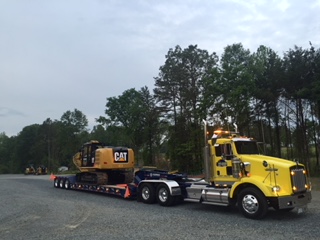 Peterson Grading & Excavation, Inc is pleased to offer Commercial and Residential grading and excavation services for the Concord NC and Charlotte NC area. Whether you need to grade your yard for a family pool or level a large lot for a new business, Peterson Grading & Excavation Inc is pleased to work with you.
Residential Services
We help homeowners and landowners get on the level!
Let's face it- life is a bumpy ride sometimes and your land is no exception! Whether you are looking to simply level out your yard or clear a lot for new home construction or home additions, you have to get the land level in order to get started.
Peterson Grading & Excavation will evaluate the work required to level your land and prepare it for your project, both big and small. We are experts at making sure the ground you are working with is level or built up enough for you to have a successful project and enjoy your homestead.
We are able to assist with any type of dirt-related work, including adding or removing, as well as creating pads for driveways, car-ports, or detached garages. We also offer services to help install ponds and other elements of beautification on your property.
Commercial Services
If you are a business and need commercial services Peterson Grading & Excavation Inc is here to assist you.
Whether you need to clear land to open a small business, or if you need to level a large area of land to erect a corporate complex, Peterson Grading & Excavation can do the job professionally and affordably.
While most commercial grading projects are for a new business on a site larger than one acre, we will give you an estimate on the cost and duration of the project and work closely with all contractors to complete the task for you.
Click image below for full detailed photo: